In the morning we leave for Reno. Everything is packed and ready to go, well not really but it will be. We have been planning this trip for two years and it's hard to believe that the time has finally come. I will send updates to this journal from time to time via E-mail, so please keep in touch. We will also check for messages on our home phone every day or so.
Day 1, 282 miles to Sparks, NV just east of Reno. Tuesday, September 23rd
I love the roiling hills of central California. In early summer the hills turn a golden brown and are accented with a sprinkling of dark green oak trees. It's like no other place on earth except maybe central Spain before it was clear cut. The oaks dominate the dry hills. Other conifer and deciduous trees don't appear until you start to climb into the Sierra Nevada range. On the first full day of fall around Emigrant Pass the trees are just starting to turn a little yellow and gold from their dusty green summer foliage. Then climbing through the tree line it's all granite mountain caps, rounded and worn but still towering over the 7,239 foot pass. It makes you wonder what they looked like before the glaciers ground them down.
Heading down the Nevada side of the mountains, on the canyon wall hundreds of feet below, a band of bright yellow aspen winds through the sparse evergreens along the granite slopes. You wouldn't even notice them in the summer, but now, all decked out in their fall finery, they stand out like a shaft of light breaking through a stormy sky.
Reno, once billed as the "Biggest Little City in the West," isn't so little anymore. It's just another mountain of skyscrapers spring from the high desert plateau and the sage-covered hills surrounding it are now over grown with housing developments. It's a lot like Las Vegas was before it evolved into a grossly exaggerated Disney Land.
Day 2, (576) 294 miles to Ryndon, NV just 11 miles east of Elko on Rt. 80.
The high desert plateau starts as black rocky hills with sage brush clinging to the slopes. Heading east along the Truckee River there is a scattering of farms and clusters of trees still in their summer finery. Interstate 80 soon turns northeast following a valley between the Trinity and Humboldt Ranges. It's a strange place with purple and black formations leaching mineral deposits out of distinct layers. The valley floor slopes gradually to a dry and barren lake bed called the Humboldt Sink that looks to be full of salt deposits. The region isn't totally dry, there are streams and at the northern edge of the "sink" there is a marsh full of wild rice, which, in turn, attracts ducks, sandpipers, and other waterfowl.
But, best of all, the rice plants have all turning a yellow-orange, the only real touch of fall we were to see this day. The rest of the valley is covered with sage and nothing else. As we travel east the sage starts to have some grass mixed in and a few scattered ranches show up on the horizon. Eventually there is more grass than stage and, can it be, a few trees appear in the distance much to the relief of the local Coyotes I'm sure.
Day 3, (833) 257 miles to Heber City, UT 40 miles south of Salt Lake City on
Rt. 40
We woke to a fiery sunrise over the snow-crested East Humboldt range rising to 11,000 feet. Crossing several ranges and traversing as many valleys, the sage and grasslands are giving way to Bristlecone pine. At the Utah border we leave the mountains and enter a surreal world of Salt Flats. There is one stretch that is whiter than the whitest snow and not a bird or bush to be seen for miles. Then it's over the Cedar mountains to the great Salt Lake. We didn't spend much time in Salt Lake City as we have been there before. Leaving the city is a long hard climb up a gorge into the Monte Cristo Range. Now it's fall! The trees are just starting to turn and there are splashes of color everywhere: red, orange, yellow and every color in between. As we crest a rise, the Jordanelle lake lies below surrounded by multicolored hills and the green valley floor. What a view!
Day 4, (986) 153 miles to Dinosaur National Monument, UT
It rained all night and most of the day as we climbed a long grade to Daniels Pass which leveled out at 8,000 feet on a high plateau. Traveling along the Strawberry and then the Duchesne rivers we saw lots of ridges and gorges along the way; however, the visibility was poor with little evidence of fall foliage.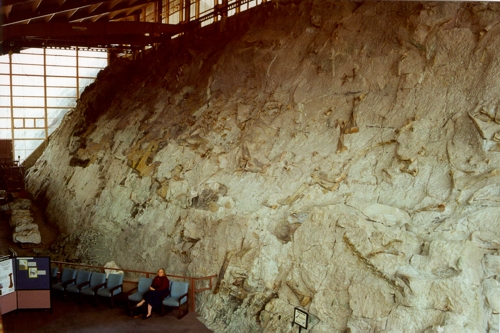 The Bone Quarry at Dinosaur National Monument.

The Dinosaur Quarry is fantastic. A two-story visitors center has been constructed against the face of a cliff which becomes its back wall. And what a wall. It is an accent riverbed tipped on its side where thousands of dinosaur bones were deposited about 145 million years ago. The bones have been exposed in the sandstone rock face where they were found. Some of the major dinosaur finds in the past were made in this bone quarry and today they can be found in museums all over the country. The rest are still here and there are probably many more buried below. But that is pure speculation, for the present the Nation Park Service is not removing any more specimens, so come on by and see for yourself. With any luck it will be here for another 145 million years.

Day 5, (1064) 178 miles to Flaming Gorge Dam and Reservoir, near Dutch John, UT on Rt. 191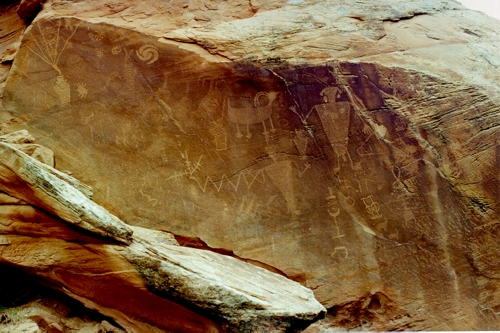 Petroglyphs at Dinosaur National Monument.

Just down the road from the Green River campground at Dinosaur National Monument we visited an ancient sandstone art gallery. These Petroglyphs were created by the Fremont people who lived in the Dinosaur Park area from 100 to 1250 AD. Leaving the Park, we stopped in Vernal to visit an Indian trading post and a local museum. Then it's a scenic 50 mile ride with steep grades and lots of switchbacks to the Flaming Gorge National Recreation Area. The Gorge gets its name from the many layers and shades of red rock exposed by the Green River.

Day 6, (1338) 274 miles to Laramie, WY, back on Interstate 80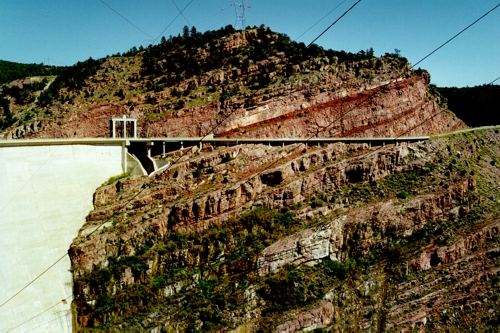 The Dam at Flaming Gorge.
Leaving the Cedar Creek Campgrounds at Flaming Gorge we crossed the dam and started a long climb up to the Great Divide Basin and Red Desert. The country-side is high rangeland surrounded by distant hills and low mountains. It's mostly grass-land with sage and low growing cactus that really discourages the use of sandals. The hills are lightly wooded with a mix of trees; the aspen and poplar are turning yellow but there is not much color to be seen yet. It's surprising how flat the land is considering we are in the middle of the Rocky Mountains. We saw several deer this morning and three herds of Pronghorn antelope grazing along the highway this afternoon. The high point of the day was when we crossed the Continental Divide in the middle of a long straightaway. Now every time I brush my teeth, the water flows to those folks back east instead of the westerners.
Day 7, (1505) 167 miles to the State Park, Guernsey, WY just off state route 26.
Today we left the Rockies with a whimper. Unlike Denver, CO and Cody, WY where the Rockies spring out of the plains like a legion of stone troupers, Interstate 80 simply wound its way through some rock faces and outcroppings down to the plain. It was pretty but not spectacular.
After spending the morning in Cheyenne, we headed north on Interstate 25 through the grasslands of the Great Plains. We saw lots of Pronghorn antelope and even some "White Man's Buffalo." No kidding, I bet we saw more than 100 Pronghorn and only 75 to 80 cows. Tonight we are camped next to the Platte river only a stone's throw from the old Oregon Trail.
Starlight's Delight
The skies alight,
with stars so bright;
every star I see tonight.
There is no moon or city light,
to ban from sight their soft starlight.
The air is clear and crisp and bright,
to show a sky that's pure delight.

The last time I saw a night sky like this was on a rafting trip down the Grand Canyon. It was also a moonless night far from city lights on a cold clear evening. A night so clear that the stars didn't even twinkle. The view wasn't as wide as here tonight, for the canyon walls pinched the horizon, but the milky way shown brighter then I have ever seen. And tonight was a very close second.
Day 8, (1784) 279 miles to Spearfish, SD Tuesday, September 30th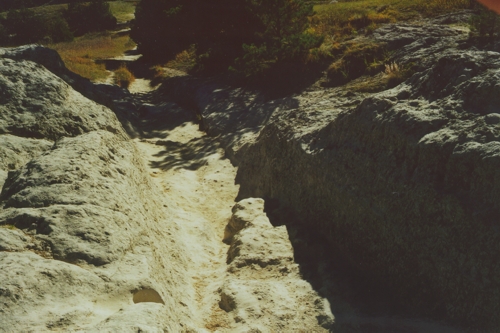 Ruts cut into the Oregon Trail by Conestoga wagons. The picture shows
a ramp cut through the sandstone the width of the wagons with
deeper wheel-ruts on each side
Just outside Guernsey, WY, along the original Oregon Trail five-foot deep ruts can be seen where the Conestoga wagons cut into a soft sandstone rise. Just down the road a piece lies Register Cliff where many of the original Oregon trail travelers carved their names into the sandstone cliff. And yes, every deadhead that's past that way in the past 50 years has also carved their names, often obscuring the original names.
After a brief stop at Fort Laramie we headed north for the Black Hills. It's easy to see how they got their name; as you approach, they stand like a black curtain on the horizon. The mountains are actually granite; it's the trees, contrasting against the light brown prairie, that makes them look black.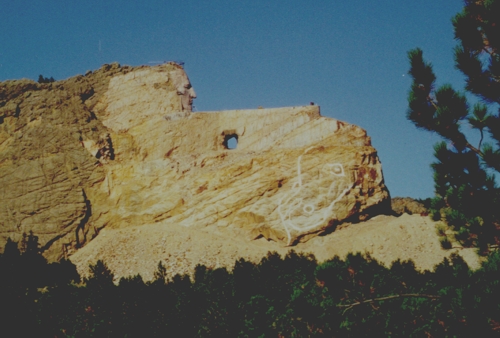 Crazy Horse Mountain
After 21 years we revisited Crazy Horse Mountain with its 563 foot high carving of a mounted Chief Crazy Horse. Last time there was a rough outline of the carving, now that rough outline has a face. It's a fun place to visit and they have a good museum along with the enviable gift shop and restaurant.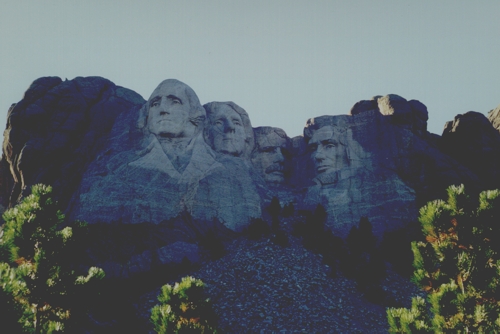 Mount Rushmore National Monument
Mount Rushmore, however, was a big disappointment. They tore down the old visitor's center along with the hill top it sat on and replaced it with a monolithic thirty foot high granite portico with Mount Rushmore National Monument written on it in eight foot high letters. Behind this covered walkway to nowhere stands an even larger building with a huge restaurant and gift shop. It's the only granite gift shop that I have seen with forty foot high ceilings and floor to ceiling windows. And, of course, both it and the portico are curved to add to the effect. Then there are the multistory amphitheater, walkways, a thousand or so car garage, and, I almost forgot, there is a little visitor's center right across from the restrooms between the gift shop and the restaurant.
Don't get me wrong, it's a beautiful building and all, for, say, second century Rome; however, it's totally out of place here and completely overwhelms the carvings on Mount Rushmore. The whole thing should be torn down and disposed of along with its architects and congress who subsidized it. (Who else has that much money to waste.) It's no wonder the National Park system is cutting back on everything else.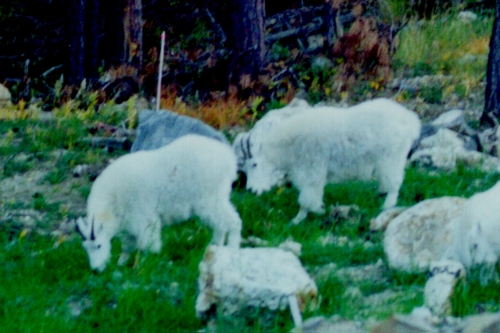 Mountain Goats near Mount Rushmore
We saw lots of game today: deer, pronghorns, wild horses, buffalo, and three groups of mountain goats totaling nine animals; unfortunately, we didn't see any of the famous bighorn sheep.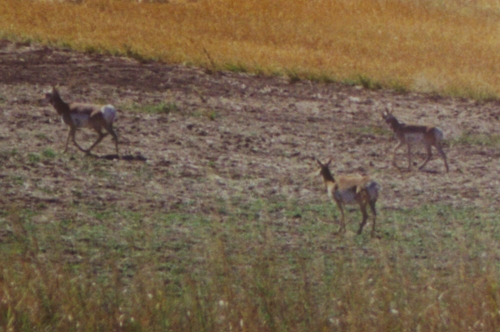 Pronghorn Antelope
Day 9, (2084) 300 miles to Theodore Roosevelt National Park, south of Waterford City, ND on Rt. 85
Driving across the plains of South and North Dakota the country side is low rolling hills with an occasional stratified rock outcropping or an arroyo. There were more streams than I expected and along the banks an occasional tree. I was able to get a few pictures of a herd of pronghorns today but not as close as I would have liked. Tonight we are sharing our campgrounds with ten wild turkeys, two adults and eight slightly smaller birds. There are free-ranging herds of wild horses and wild buffalo in the park but none have stopped by to visit yet; nor has the coyote howling in the distance.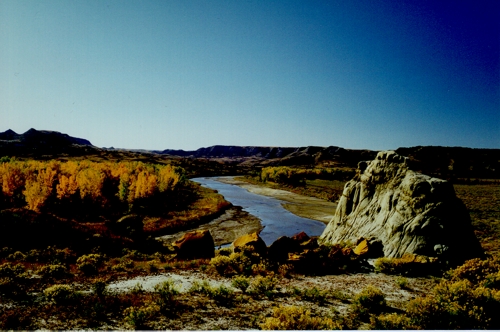 Little "Mo" River in the Theodore Roosevelt National Park
Day 10, (2278) 194 miles to Pick City, ND, 5 miles from Riverdale across the Garrison Dam
Theodore Roosevelt National Park is in the Badlands of North Dakota. We camped in the northern section along the Little Missouri, Little Mo as the locals say. The river valley was all yellow and green with fall foliage against the multicolored hills. The turkeys walked through our campsite again this morning picking at the gravel and looking under leaves for any tidbits we may have left.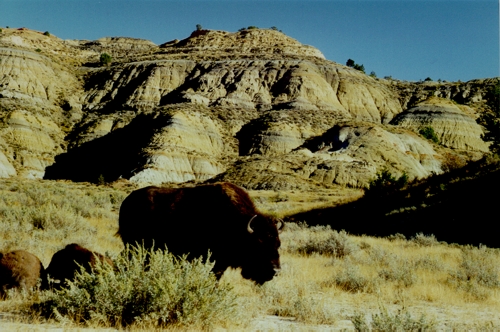 Wild Buffalo in the Theodore Roosevelt National Park
After breaking camp we drove deeper into the park and spotted a herd of buffalo in the distance. A little ways down the road we had to stop for a doe and her two yearlings to cross in front of us. On the way back the herd of buffalo had moved over to the road. I took some great pictures as we slowly weaved our way through them.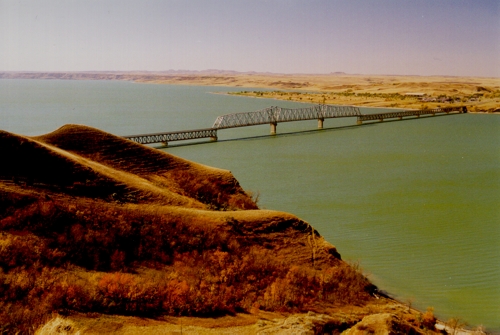 The Four Bears Bridge over Lake Sakakawea,
formed when the Garrison Dam backed up the Missouri River.
We crossed the Four Bears Bridge that my father built. He was the area engineer in charge of the project for the Corps of Engineers. It is the longest bridge in North Dakota and must also be the narrowest. It can't be more than 18 feet wide from guard rail to guard rail. Although the current bridge was constructed in the early fifties, the center sections are from the original bridge over the Big Muddy, also known as the Missouri river, built back in 1933. I guess they built bridges narrower back then; because, now when two 18 wheelers pass their mirrors are definitely in jeopardy.
Riverdale is just as I remember only it has trees and everything is smaller. I lived there from the age of 6 to 14, so I guess that is to be expected. There are no stores left in town now that it has shrunk from 5 thousand to 350 people, but it does have a library, school, town hall and a coffee shop that opens from time to time for club meetings. I visited our old home at 309 Second Street but nobody was there.
Day 11, (2352) 74 miles to Bismarck, ND on Interstate 94
North Dakota has three features that stand out in my memory. Roads that run straight for miles. They seem to step down as they run over the rolling hills until they disappear into the horizon. Then there are the wheat fields. Now it's just stubble, but before the harvest the wind blowing through the fields make it a living thing with more currents and eddies than any ocean. But mostly it's the wind. Today it was 40 MPH most of the day, while yesterday it was only 30. Driving our motor home the last two days is like competing in a rodeo; bulldogging comes to mind.
Day 12, (2620) 268 miles to Ashby, MI on Interstate 94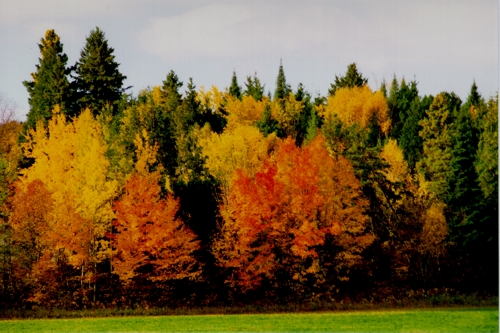 Fall Foliage in Minnesota
We entered the land of 10,000 lakes today. It certainly lives up to its name and we have trees again. Fall is just starting here and should improve day by day. Tonight after setting up camp we watched two dear come down to the lake, a buck and doe. The buck hung out in the reeds while the doe walked along the bank in the water. Another doe came down to the water later and then a young deer came down by itself, had a long drink then ran back and forth along the bank playing in the water. In the mean time two more came out to feed in a wheat field. Hunting season starts tomorrow.
Day 13, (2876) 256 miles to Chippewa Falls, WI just off State Route 29 as we leave I-94 forever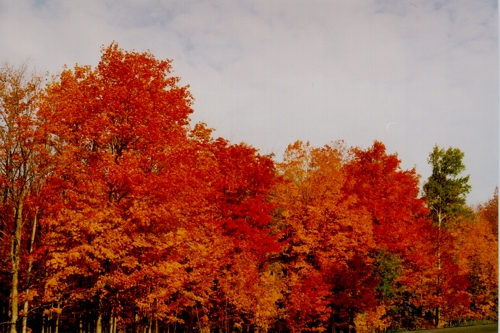 Fall Foliage in Wisconsin
We traveled through several bands of fall foliage in Minnesota and Wisconsin today. It's early in the season but we did see several lovely displays. Central Wisconsin is reminiscent of eastern Massachusetts where Maren and I lived. The houses, country side, and vegetation are all familiar.
Day 14, (3077) 201 miles to De Pere, WI just south of Green Bay Monday, October 6th
It started raining just as we broke camp this morning on our way to Green Bay. The fall foliage was close to prime but with the rain the lighting wasn't very good. By the time we arrived the rain had stopped and the sun was trying to break out. It never made it but at least it tried.
We are staying with Judy Laskowski, a friend Maren met on her trip to China this spring.
Day 15, (3248) 171 miles to Manistique, MI on the north shore of lake Michigan
Another gray day, but no rain today. The fall foliage was good but I am still waiting for that special shot. From the city of Green Bay we drove along the western shore of lake Michigan's Green Bay up to the north shore of the lake in the state of the same name. On the way we crossed into the Eastern Time Zone where we will be for some time.
Day 16, (3537) 289 miles to Whitefish, Ontario, Canada just off highway 17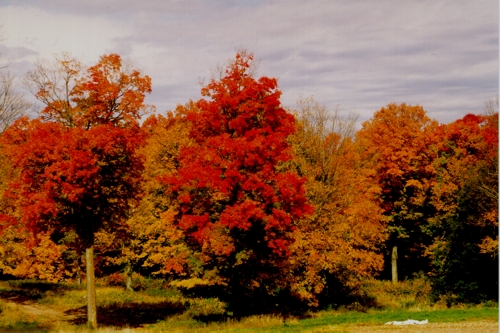 Fall Foliage in Canada
One can understand Canada's fascination with maple leafs when you see them with there fall finery on. They run from red to scarlet to do you believe the color of that one. Then there are the oranges. There are the normal orange leaves and some burnt orange leaves, but there is one tree with fluorescent orange leaves. Mix all this in with a dozen shades of yellow, the ever-present greens and it's quite a show.
Now all that is needed is a little sunshine. There were a few patches of blue up there today but they never did line up with the sun. About half an hour before sunset the sun turned a bright, maple-leaf-in-the-autumn, red. It wasn't much of a sunset in the traditional sense, no glowing red clouds or anything, but the reflection of that sun off the lake in front of our campsite was terrific, and that was before the two muskrats came out to play.
Day 17, (3766) 229 miles to Pembroke, ON beside the Ottawa River and the Quebec border
Another day without sun in a forest of color. It rained last night and is raining hard this evening but the day was dry. In spite of the overcast, the weather has been terrific throughout the trip; wherever we go, it's been unseasonably warm and dry. I had better shut up or I'll jinx the rest of the trip.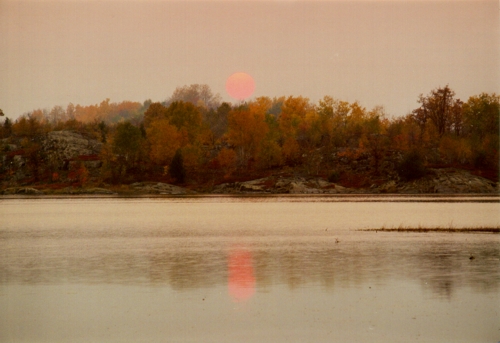 A cloudy Sun Rise over a lake in Canada from our Campground
where loons serenaded us.


Day 18, (4037) 271 miles to Bromont, Quebec just off Highway 10

We had sun and wind and the swirling of leaves today. The fall foliage is just passed prime but it's still terrific. We sailed through Ottawa today and played bumper tag in Montreal. It was only a little after 3:00 and boy were we glad it wasn't 5:00. By the way, they drive just like the French here; you know, a red light means only three more cars and you use your directional signal to tell the car in the next lane to speed up.

Day 19, (4293) 266 miles to Bangor, ME Friday, October 10th

The eastern plains of Canada change abruptly when entering the US at Coburn Gore on Maine's Route 27. The narrow, high-crowned, contour-hugging road winds its way through the Bigelow range past Sugarloaf Mountain in a mixed hard and soft wood forest. Though past their prime, the fall colors are still quite brilliant although there are more bare-branches visible than before. It's a pretty route but the road is rough and narrow. It's a lot like a roller-coaster ride complete with hairpin curves and screaming kids, well not exactly kids, but you get the idea.

Fall Foliage in Maine
Day 20, (4336) 43 miles in and around Bangor, ME
Today Maren and I visited in the Bangor area. First up was the Bangor International Airport. When I knew it, it was the Dow Air Force Base where my father was the area engineer in charge of building the base for the Corps of Engineers. Next up was the Mount Hope Cemetery where the Sullivan family plot is located. My mother's father, mother and brother are buried there along with their parents. Our old house in Hampden looks nice; however, they put a 6 foot fence up in front of it along the road. The porch that my dad built is now enclosed and looks, from the outside, like an additional room.
The whole area looks like it's growing. Downtown Bangor has lots of new buildings and the old ones look to be well maintained. All in all it looks better then the last time I was here about 18 years ago. Hampden is also growing with new homes, schools and a shopping mall right by Route 1A and 202.
Let me know if you Like this article & please leave a comment.
Please rate Tom and Maren's Fall Fantasy Part 1 and let me know what you think. Just click on one of the ratings below.

[ * Stinks | ** So-So | *** Good | **** Great | ***** Loved It ]
Your feedback is important to me. Any additional comments will be appreciated. Thanks, Tom Heald.
---

Free counter provided by Vendio on March 26, 2009.