Days 46-50, Visiting with the Florida branch of the Healds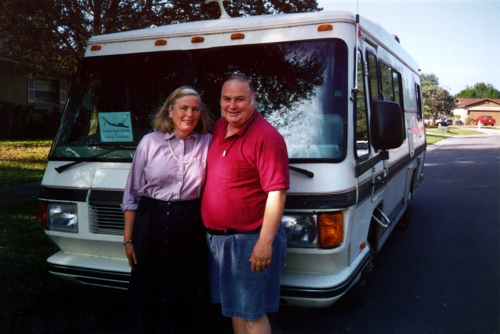 Tom and Maren outside their Aero Cruiser motor home in Florida

It was a wonderfully-relaxing five days with Don, Paula, Mike, and Mom in Florida. Maren and I had lunch with Mom at the restaurant in her retirement home and she took us all out for an early dinner one day. When on the go Mom uses a wheel chair but she gets around her apartment on her own or sometimes with the help of a walker.

The girls went shopping one day while Don helped me fix a few things with the motor home and we went out for supper several times, that is, when Paula wasn't fixing us a delicious dinner. The last day Don took us to a local Zoo so we could see some manatees. They were great then we went to see Mom where she promptly beat us at Hearts. She may still be weak from all her operations but she still plays a mean game of cards.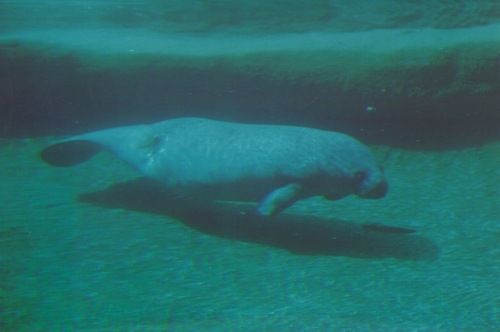 Manatee with a Propeller Scar.
Day 51, (7410) 284 miles to Tallahassee, Florida Wednesday, November 12th
It started to rain about half way up the coast today and then slowly changed into a downpour. Now it has leveled of to a simple deluge and the animals are arriving two by two. The TV keeps flashing tornado warnings on the screen but very few motor homes come equipped with a storm cellar. Oh well, if you are reading this everything turned out OK.
Day 52, (7711) 301 miles to Biloxi, Mississippi
It rained most of the day and then cleared just as we left Alabama about an hour out of Biloxi. We are not totally out of the fall foliage zone. There was some color in northern Florida and southern Alabama. Some swampy areas are quite colorful but nothing to equal the colors up north. Tonight we are camped beside the Gulf of Mexico in the center of Biloxi.
Day 53 & 54, (7791) 80 miles to New Orleans, Louisiana
The cold, cloudy sky cleared as we pulled into N'orlenas as the natives say. After lunch we took the bus down to the French Quarter and arrived at Jackson Park to the trill of a jazz trumpet. We walked the streets stopping to listen to jazz sessions for the pass of a hat. Maren visited each and every shop as I took pictures of horse drawn carts passing in front of building with elaborate rod iron facades supporting porches covered with flowers. We had supper on Bourbon Street and looked in on several jazz bars along the way.
Editorial Note: "It's a BIG LIE", said Maren. "I didn't visit each and every shop, and you visited some shops too!" She's probably right but I liked the sound of it and hey! Who's writing this anyway.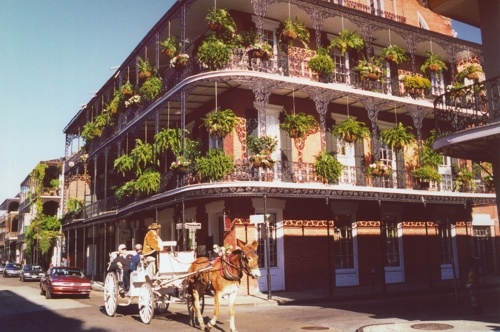 Fancy Ironwork, Flowers, and a Slow Ride around Town

The next day we went to an open market with a thousand or so stalls at the French Market and then had a typical Cajun lunch or so the menu said. Everything was good, but frankly, I think red beans and rice are greatly over rated. They don't hold a candle to red rice and beans served at any good Mexican restaurant back our way. I saw several tee shirts proclaiming that "New Orleans is Famous for Red Beans Ann Rice," but we didn't see her or Lestat on the streets.

Day 55, (8072) 281 miles to the East Lucas RV Park in Beaumont, Texas

We got off I-10 and drove along LA 190 for a while. It was booked as a good way to see typical Louisiana countryside. It was rather dreary. The properties were run down and the houses needed painting. Up to this point I was really impressed with every part of the country we visited. With very few exceptions everything was in good shape even in areas I didn't expect it to be so, but Louisiana is well below the norm.

The major roads are in poor shape and there are dead and rotting animals along the side of the road. It doesn't appear that the authorities ever pick them up as they do in the rest of the country. Maybe we hit them on an off year and we may not have seen the better parts but what we saw left us cold. We did enjoy New Orleans but it too was a little run down and the French Quarter had a sour smell. The major hotels and malls looked great but many places seem to take in much more revenue than they spend on maintenance.

Day 56, (8385) 313 miles to the Admiralty RV Park in San Antonio, Texas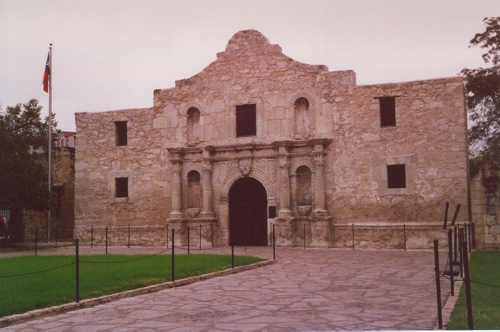 Remembering the Alamo
Maren drove most of the day as we flew over Texas. By 1:30 she has chewed up 275 miles and we were at the Alamo. It's not my first trip their but I don't remember much of the first one as I was only two or three at the time. After perusing the place I went out to take pictures as Maren went shopping for postcards in the gift shop. Then we really hit the jackpot, found a mall and checked it out for half an hour or so.
I got lost on the way to the RV park. I misread the map and -- oh well. Maren was very understanding and only asked me twice what went wrong. It cost us about 10 miles of rush hour traffic but we arrived ok. The RV park is one of the best we have seen and has the highest Trailer Life rating (10, 9.5 ,9) in Texas; however, I couldn't get their modem port to work so you won't see this for another day or so.
Day 57, (8714) 329 miles to Fort Stockton, TX
We pulled into the local KOA and then went into town for a couple of steaks. It looks like Fort Stockton has been declining ever since the US Cavalry left town back in 1886. It is probably best known for the four companies of the 9th Cavalry made up of black enlisted men called the "Buffalo Soldiers" by the local Indians. It's second most famous attraction is Pisano Pete, an 11 foot tall, 22 foot long roadrunner.
Day 58, (9000) 686 miles to Las Cruces, New Mexico
Three days and 1032 miles through Texas! From the Louisiana border with its swamps and moss draped trees through the flat plains of east Texas from Houston to San Antonio it's hard to distinguish Texas from one of the other plains states. When we left San Antonio, however, the landscape changed abruptly to oak-covered hills that, after 100 miles, wane back to plains. The farther west we ran the thinner the trees became until it all turned to sage, grass, and low cactus. In West Texas the plains turn to grass just before the mountains begin. Interstate 10 winds around several ranges and then follows just out of sight of the Reo Grande up to El Paso.
We saw El Paso long before we reached it. Like Charley Brown's buddy Pig Pen, it was shrouded in a cloud. Just like Los Angeles it lies in a smog-filled basin. It was bad enough when we arrived that we decided not to stay the night as planned; instead, we drove onto New Mexico. We were glad that we did, as we spent the afternoon in a little Mexican American town of La Mesilla, with its tourist shops clustered around a pretty town square in front of the Catholic church. It also has another clam to fame. It's where William "Billy the Kid" Bonney was tried and found guilty of murder before he escaped and, well, you know the story.
Day 59, (9255) 255 miles to Albuquerque, NM Thursday, November 20th
It's nice to be back in the Canyon lands of the Southwest. The wide-open vistas with all those interesting buttes with open striations. We followed the Reo Grande up Intestate 25 making several stops. The most notable was the Isleta Indian Reservation just south of Albuquerque.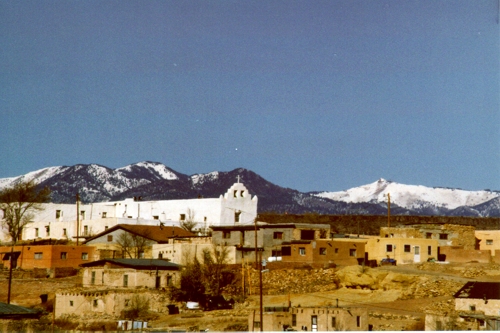 The Pueblo of Laguna dates back to 1692
The Pueblo of Isleta is made up of flat roofed adobe homes with small unpaved roads winding throughout. The central square is also dirt with a wonderful old adobe church dating back to 1613. The Church of St. Augustine has walls that taper from about ten feet thick at the base to a foot or so thirty feet up. Inside are stained glass windows depicting priests with the Indians. The windows must be quite recent as all the captions within the glass panels are written in English.
We visited several local artisans and Maren found some lovely pottery at vary reasonable prices compared to gift shops we have seen. There was also and art gallery and outside one of the adobes was as hand written sign for Fresh Bread. We knocked on the door to inquire and purchased a loaf fresh out of a brick, wood-fired beehive stove outside in a corner of the patio.
Day 60, (9283) 28 miles in and around Albuquerque, NM
The weather up north has turned cold and there is snow in the passes, so we decided to skip the canyon country in southern Utah and spend more time in New Mexico. Today we spent visiting gift shops and the Cultural Center in Albuquerque.
Day 61, (9472) 189 miles to Gallup, NM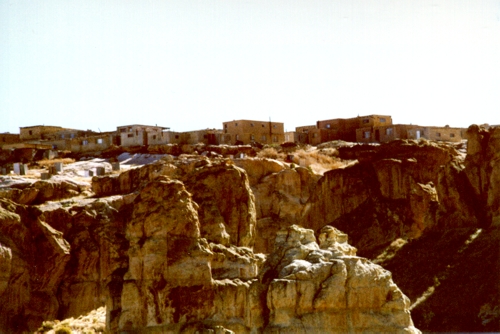 Sky City has been occupied since the 1100's
Heading west on Interstate 40 and NM 53 we visited several Indian Reservations. The Acoma Pueblo or Sky City is built on a high plateau and has been continually occupied since the 1100's. When Francisco Coronado, approaching from the south, first saw it in 1540 he mistook it for one of the seven fabled cities of gold. Imagine his disappointment when he discovered the golden glare was from the straw and adobe mix used to plaster the walls and from the mica windows used in the three story homes during the winter. The population was about three thousand then, today only 30 Acoma natives live in the Pueblo. According to one of the residence the others prefer houses in the valley with electricity, running water and all of the other amenities found in those "push button" homes.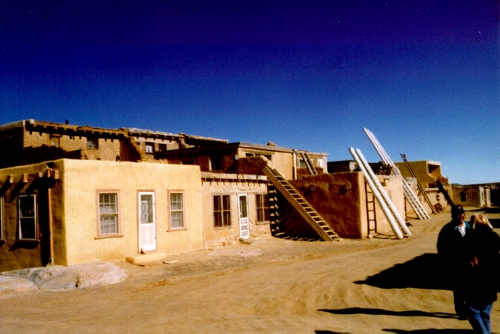 The Pueblo is still the cultural center of the Acoma
although most of the natives live on the plains below.

Later we visited the El Morro National Monument in the middle of a Navajo Reservation. There are Anasazi ruins on top of the mesa and petroglyphs they carved on the cliffs below. The Anasazi abandoned the site in the late 1200's. The next generation to sign in was the Spaniards, from the late 1500's to the early 1800's. Next came the Americans after the Mexican-American war ended in 1848, first the army and then the immigrants.

Next stop was the Zuni Reservation which some clam are the direct descendants of the Anasazi. We stopped at several trading posts. The workmanship and quality of everything was quite good but the prices were high. It was getting late so we headed north for Gallup. On the way we passed through the town of Black Rock. From time to time, after a hard day, I remember my mother saying "It's been "A Bad Day in Black Rock."" I believe the reference comes from an old black and white movie of the same name, one of the first western film-noir. Well mom, today we had a good day in Black Rock.

Day 62, (9604) 132 miles to Canyon de Chelly, Arizona

From Gallup we headed north into Navajo country. The area is full of large red sandstone buttes rising from the open plains. Outside the Navajo Tribal Headquarters we stopped to look at Window Rock in the town of the same name. It is an almost perfectly round hole through a red sandstone butte at about a 30 degree angle. The window is about 100 feet across in the center of a rock that is about 200 feet tall. Looking at it, it is impossible to doubt the legend that it is a gateway to heaven. The Navajo have made the area around it a memorial park for all of their soldiers who have died in combat.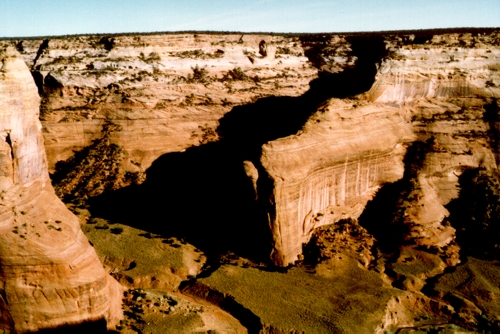 Canyon de Chelly from the North Rim
We approached Canyon de Chelly (pronounced Chay) along its north rim where access-roads take you to five overlooks. The views are spectacular. Below, clinging to the side of the 800 to 1000 foot high shear canyon walls, are cliff dwellings dating from the earliest time of the Anasazi.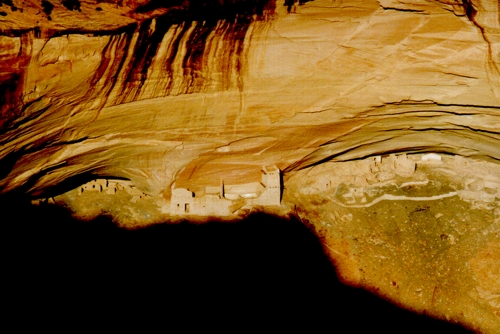 One of dozens of Cliff Dwelling Ruins we saw.
Day 63, (9642) 38 miles in and around Canyon de Chelly, Arizona
In the morning our Navajo guide took us on a tour of the canyon floor. For shear-beauty it rivals the Grand Canyon. The red sandstone cliffs rise straight from the flat, sandy, valley floor without the usual rubble-piles at their base. Along seams in the strata and in alcoves where the walls have been undercut, are more than 15 sites where ruins of cliff dwellings can be found.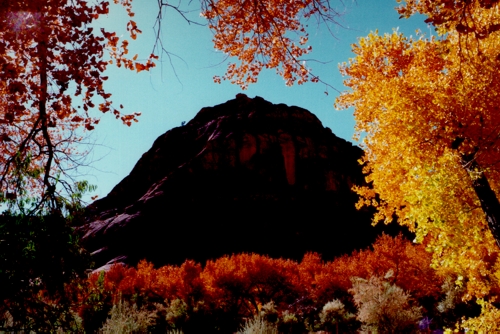 Fall on the Floor of Canyon de Chelly
A short way in, the Canyon splits into two major arms which, in turn, split into smaller canyons. The cliffs weave their way along the flat valley floor so you seldom see far ahead and sometimes there are massive rock formations standing alone on the valley floor. The most impressive of these sentinels is Spider Rock which looks like two needles rising 800 feet from their 50 to 60 foot bases. Why are these two massive needles called Spider Rock? To honor the spider who taught the Navajo to weave, of course.
The fertile valley floor has been home to many tribes for the past 5000 years and it has been under cultivation for nearly half that time. Today it is used by the Navajo to raise household crops and cattle, but you hardly notice them. Like their ancestors they blend into the natural landscape of the valley rather then trying to rearrange the land to meet their needs.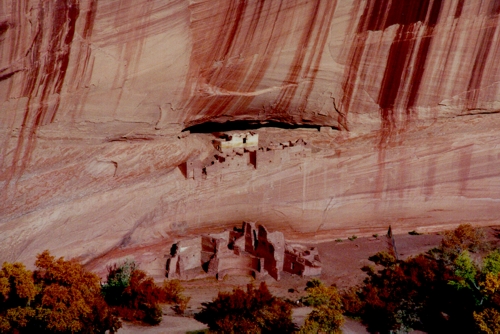 View from the South Rim of Canyon de Chelly
After the morning tour we drove along the south rim of the canyon where we looked down on more spectacular beauty interspersed with ancient ruins. If you have ever seen the Grand Canyon, it is impossible not to compare the two. To me, the Grand Canyon is a breathtakingly-huge gouge in Mother Earth; whereas, Canyon de Chelly is a more personal work of art created by Mother Earth for her people.
Day 64, (9797) 155 miles to Holbrook, AZ Tuesday, November 25th
The Hubbell Trading Post National Historic Site is a working trading post with a visiting center next door. What a deal! All the prestige and free advertising that comes with being a National Historic Site plus their normal clientele. We talked to the owner who was very interested in discovering which artist created some of the jewelry Maren was wearing. They looked it over but didn't know the artist whose initials were on the back.
The Information Center lived up to its name with lots of history on trading posts and a rug weaving demonstration.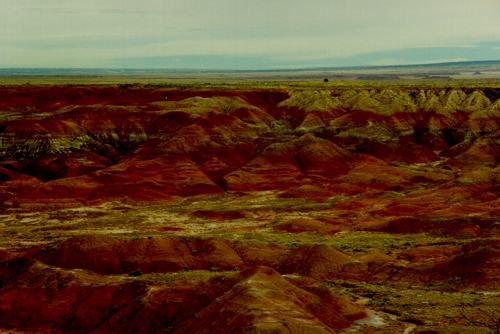 The Painted Desert in Arizona

Later in the day we visited the Painted Desert and Petrified Forest National Park. The shades of red, white, and blue strata mixed with the rolling texture of the land, deep groves, and irregular shapes all combine into an awe inspiring sight. Unfortunately it was overcast today so we did not have the advantage of bright sunlight and deep shadows. I would love to be there two hours before sunset on a bright sunny day.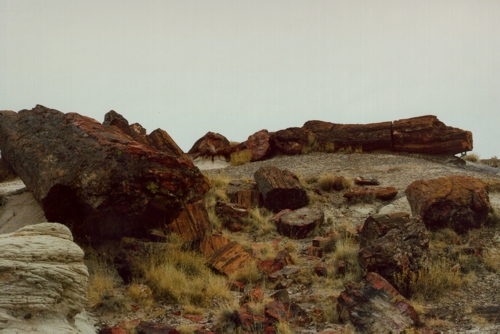 The Petrified Forest National Park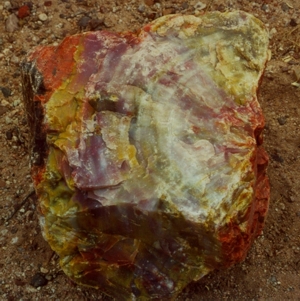 The Petrified Forest is a scattering of logs turned to agate through centuries of fossilization. You can still read the tree rings and other features in the logs as can be seen in the picture on the right. When polished the stone becomes a rainbow of colors depending on the minerals that replaced the original wood. In places the landscape is covered with fallen logs from two to five feet in diameter. Though most trees are broken into one to two foot segments, they lie end to end in their original position.

Day 65, (10015) 318 miles to Kingman, AZ

After Maren's birthday party we took off for Flagstaff, AZ and some serious shopping. It was a bust, so we decided to continue on to Kingman. For the rest of the day the wind blew at an average of 40 MPH with heavy gusts from different directions. That night it rained by the bucket full and the motor home rocked like a ship at anchor. For the first time we had a phone hookup at the campsite so we call the kids and swapped E-mail with our friends.

Day 66, (10133) 118 miles to Las Vegas, NV

We stayed at Sam's Town Hotel, Casino & RV Park for Thanksgiving and bit the big bird at their buffet after playing the slots all day. We did see a lot of fall colors in Las Vegas; unfortunately, they were all in neon, from a forest of casinos on the strip!

Day 67, (10416) 283 miles to Bakersfield, CA

We stopped at Maren's favorite shopping center in Las Vegas then had lunch at Whiskey Pete's on the Nevada, California border and enjoyed their $5.00 buffet. There is not much fall foliage to see in this area and, as we have traveled through this area many times before, we didn't do any sightseeing.

Day 68, (10676) 260 miles to Merced, CA and then home to Gilroy on Saturday, November 30, 1997

After a three-hour ride we stopped in Merced, CA to visit with Herb and Irene Fensin. She wasn't feeling well so we did not stay the night, instead we headed for home after a few hours.

The California hills have a green tint to them after all the rain but the native plants still have all their leaves. They don't drop them like trees do in colder claimants. They lose them slowly as the new ones replace the old, but the nonnative species are quite another story. We were greeted with all manner of red, yellow, orange and still green leaves as we came into Gilroy. It's past prime and many trees have some bare branches; however, it was a nice greeting and a fitting end to our ten-week quest for fall foliage.
---
Let me know if you Like this article & please leave a comment.
Please rate Tom and Maren's Fall Fantasy Part 3 and let me know what you think. Just click on one of the ratings below.

[ * Stinks | ** So-So | *** Good | **** Great | ***** Loved It ]
Your feedback is important to me. Any additional comments will be appreciated. Thanks, Tom Heald.
---

Free counter provided by Vendio on March 26, 2009.